Train with us! Expand your LUTRON product knowledge with Willow Electrical Supply. Continuing with our Online Training this week I have LUTRON classes for you guys. Please read the descriptions below, and register by clicking on the blue signup button below. The Wireless Lighting Controls training is a must for those of you working in the field. Did you ever have a question regarding a wireless sensor? Take advantage of this training, and ask away. In addition, I recommend that our Sales Professionals check out the Smart Home webinar. When you find the webinar that interests you, simply press that Sign up button. Once again, Happy Learning!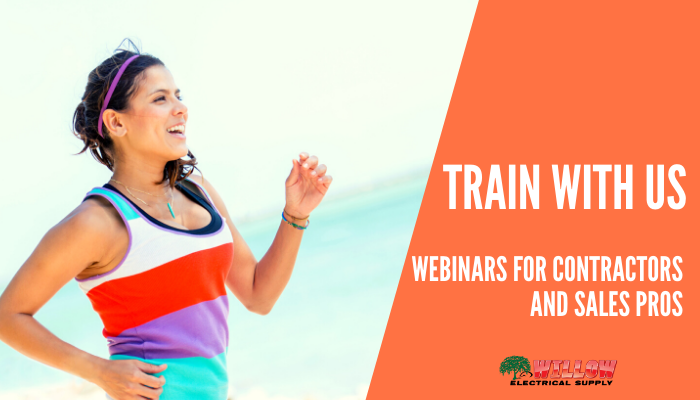 Expand your technical knowledge with these Online Training Webinars
Vive Commercial Training (Why Vive)
Learn about the benefits of Vive— Lutron's wireless lighting control for commercial applications—and how you can work smarter, not harder, to grow your business.
Time: Thurs, Apr 23 • 2 – 3 p.m. ET
          Tues, May 5 • 3 – 4 p.m. ET

Wireless Lighting Controls CEU
This course will discuss wireless lighting control system components, protocols, design considerations, and the benefits of this technology for both new and existing commercial buildings.
Time: Wed, Apr 22 • 2 – 3 p.m. ET
         Fri, May 1 • 3 – 4 p.m. ET

Residential Wallbox/ Smart Home Training
Participants will learn about the residential lighting controls market and the business opportunity with dimmers, sensors, and smart lighting products, including how controls can help improve different parts of the home.
Time: Wed, Apr 22 • 10 – 11 a.m. ET
         Thur, Apr 30 • 2 – 3 p.m. ET

Our new "Train with us" series is an ongoing online training series for our all electrical professionals alike. We'll continue sharing training opportunities provided by our vendors. In the meantime keep checking your inbox, and happy learning!