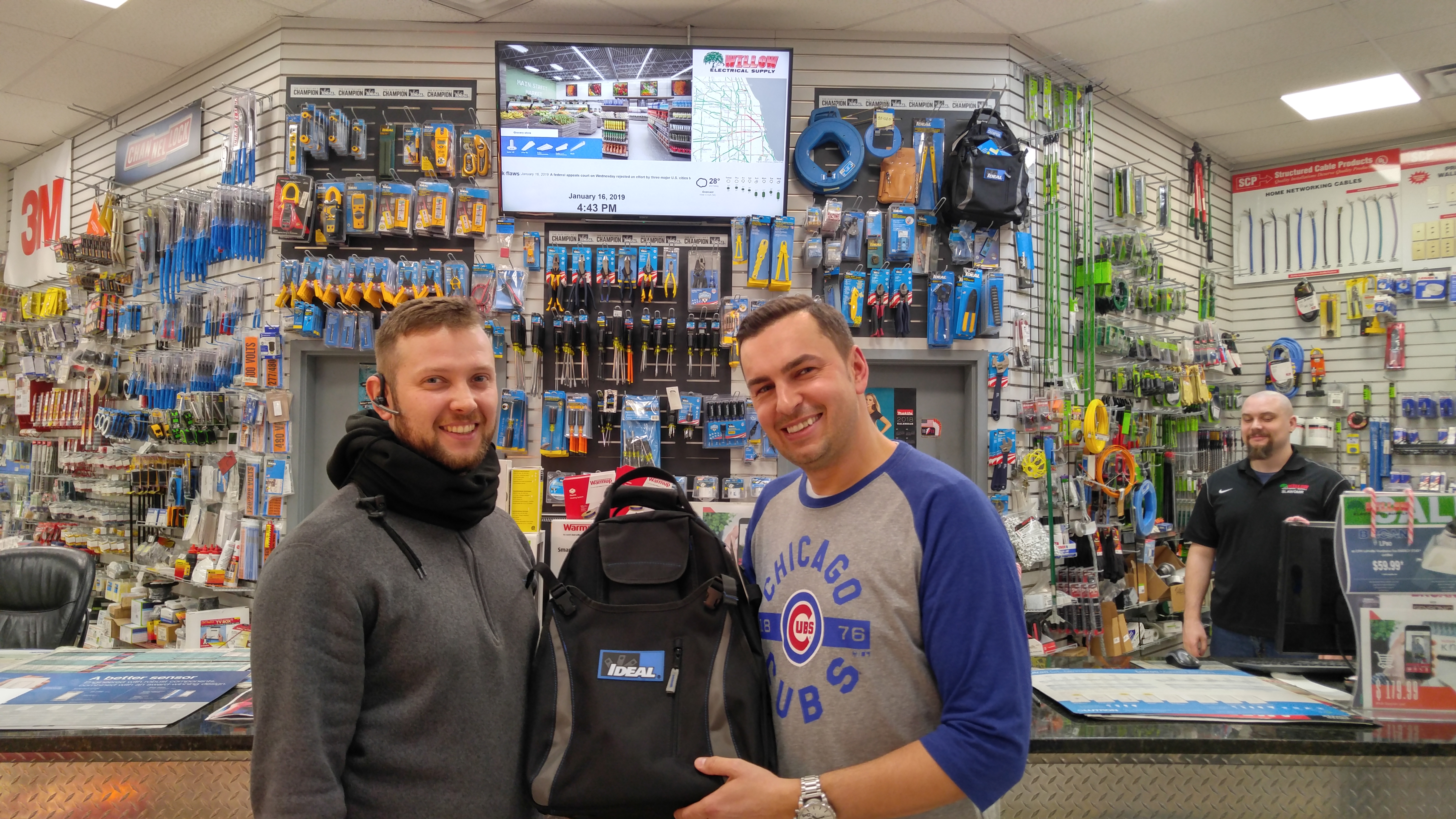 Announcing the Winner of our "Tool Backpack Giveaway"
Above all we want to send a big THANK YOU to everyone who participated in our contest! Hence, this was our very first giveaway, with more to come this year. Moreover, I'd like to congratulate Peter of Focus Electric for winning the main prize.
Namely
, he is the new owner of an
IDEAL
Dual compartment Tool Backpack. Provided you love giveaways, you'll want to Sign Up for our Newsletter (follow to the bottom of the page).
Ultimately
, you'll stay current with our latest
events
. Also, make sure to follow our
Social Media
sites for the latest in up to date information. What's more, if you love the electrical field then you're at the right place.
More importantly I got a chance to talk with our first giveaway winner of 2019.
Consequently
, Peter Falenta of Focus Electric has been a loyal customer of ours for some time now.
Meet our first giveaway winner of 2019.
How does it feel to win an IDEAL backpack? How does it feel to be the Winner?
As a matter of fact it feels amazing! It's something that I've been meaning to buy anyways, and now I have it! Hence, Thanks Willow Electrical Supply.
So how long have you been in the electrical field?
All in all I've been doing this for eight years now, pretty much all my adult life.
Fortunately
, I enjoy what I do, and plan on making this my lifelong career.
Secondly
, this is a very rewarding field, especially for somebody like me that takes pride in his work.
Actually, who's Focus Electric? How long have you been working with this outfit?
Actually, it's a startup company created by me, and my partner Matt. All in all, about two years ago we decided to join forces, and become our own bosses. Since then, we hired another person and things are looking up.
How long have you been a Willow customer?
In short, I've been buying at Willow Electrical for over 5 years now. First of all I like the guys I deal with here. Subsequently,
the guys here make our day to day operations easy. To clarify, having a supply house on your side gives you that competitive advantage.
What do you do in your free time?
After work I enjoy spending time with my fiancee, going to the gym, and hanging out. Meanwhile, on the weekends you can find me DJing at clubs, and parties. To sum it up I live a busy life, and that's the way I like it.
Lastly
, you can follow Peter on Instagram